NEWS
Alexander Davidson (Sandy) 1941-2021. 
Sandy Davidson sadly passed away on Thursday 15th April only 2 days after his 80th Birthday, having suffered from illness for the past 8 years. Unfortunately, his illness had meant that he had to stop playing Table Tennis which he had always enjoyed, a sport which Sandy had competed in for many years alongside Marion his wife of 57 years. Playing through the various divisions to eventually play in Division 1.
Sandy had been involved with the D&DTTA for over 55 years and within that time had served as Chairman, Executive Committee and became an Hon. Vice Chairman. Also, Sandy served on the STTA Executive Committee for Season 1971/72 and later gained an Umpiring certificate.
In his early days Sandy was a member of the Hecklers Panmure Table Tennis Club and was Chairman of the club. When Sandy's career took him to Lecturing at the Dundee College, he started the Table Tennis Section which continued up to a few years ago when the remaining members merged with Plebeians Table Tennis.
He was also involved with the Scottish Vets. TTA and Ian McLagan (current SVTTA Chairman) supplied the following comments:
"Probably the older age groups will remember him escorting his wife, Marion, to both national and international events. It was in Guernsey in the early 2000's that in discussion he suggested that Scotland hold their next event in Perth. Look at that now, possibly the best tournament in the calendar of the Home countries. Sandy helped to run the National tournaments especially in Bathgate, compiling the draws and playing schedule. He would also help when required in the International events as no job was too small for him to do. "
Sandy was always keen to complement players when they were playing well and encourage other players who were finding it difficult, his easy to speak to attitude gave him the ability to put you at ease, a true ambassador for the sport who will be sadly missed.
His working life started at the Caledon Shipyard as a draughtsman, then he worked with Dundee Council, NCR and latterly with Dundee College where he lectured for many years until retirement. In his youth he was in the Boys Brigade where he ended up an officer, attained the Duke of Edinburgh Silver award and completed the Outward-Bound Course at Moray Sea School.
Sandy is survived by his wife Marion, sons Richard and Martin, daughter in law Selina, his 3 grandchildren and 1 great grandchild.
Stewart Clark – Honorary Vice President
The Management Committee is delighted to announce that Stewart Clark has agreed to accept the honour of becoming an Honorary Vice President of DDTTA.

Stewart started playing in the Dundee League as an 18 year old and hasn't missed a season since.

He has always played for Telecom TTC and has intermittently served as secretary for around 35 years.

In the past,he has also been a member of DDTTA's Executive Committee and has served as Vice Chairman. He also served for many seasons as the Association's External Examiner.

When WRG was threatened with closure in 2002, Stewart joined a committee of volunteers who raised sufficient funds to save and modernise the building. He has been Company Secretary on the Board of Directors since 2002, with much of his work in this role being to the benefit of DDTTA.
It is with great pleasure that we can announce the birth Gillian Edward's daughter Iona.
Born in November Iona is already shaping up to be a fine left handed Table Tennis player. Congratulations to Gillian and Kevin.
It is with much regret that we have to have to report the passing at the weekend of Alastair Stewart
Alastair was very accomplished in racket play and apart from his prowess as a table tennis player he was highly effective with tennis racket in hand.
In the 1950s he emerged as one of the top junior players locally and nationally and it was recalled by his contemporaries that he won the District Closed Juniors Singles title in 1954. His style was based on a stout defence that would often frustrate his opponents. It was somewhat fitting then that he played for Plebeians Aces in the local leagues along with the equally defensively formidable Ronnie Forman.
After a spell away from the game Alastair re-emerged in the 1980s playing at the Keillors Factory with the Okhai family. By the early 1990s he had moved to Broughty Ferry LTA in their brand new premises at Elcho Drive where he played for a team called Chancers in the 3rd Division with Ian Dunbar and George Smith. He showed that he had lost little of his touch ending top of the averages in the 3rd Division for that season.
In the mid 1990s he moved down to the Scout Hall in Broughty Ferry and ended his playing days playing for Ferry Boys and Pensioners - no doubt very enjoyable with both a competitive and social spirit.
Alastair through his business interests was a regular sponsor of local table tennis and for many years he has been a Honorary President of DDTTA.
Latterly he still took an interest in Table Tennis and he regularly looked down to Ward Road Gym to take in some of the action at the Closed Championships.
We send our heartfelt condolences to his sons Colin and Neil and his extended family and friends.
We are sad to report the passing of Donald McIntosh
Donald with some of his Table Tennis Colleagues
Front row - L to R. Pierre Bergamino, Jeanette Whitton, Jim Martin ( Councellor ), Brian Lynch, Donald McIntosh, David James, John Fraser.
Back row - L to R. Kenny McLaren, Jim Menzies, Ian Whitton, Abe Mc Murchie, Mabel Neish, Mark McLuskey, John Menzies, Neil Cosgrove.
A personal Tribute from Don McGilvray – Friend and Teamate
Don was my friend, my teammate and my adversary during my core formative years in the DDTT league. He was a year older than me and we both played at the Heckler and Panmure TT club at a time when that club was the dominant force in Dundee and had a strong junior club and coaching system. At age 15 I think Don fought his way through to the final of his age group to the then televised Eagle /Girl TT competition for youngsters held in London qualifying through Scotland then the North of England. The BBC televised the event which was watched live in his school in Dundee a great start to his career unofficially putting him in the top two in the UK for his age group.
While in the juniors he played his best match ever in winning the Scottish junior closed title beating Eric Sutherland the top seed (who went on to win many Scottish caps)in straight sets in the final. His win was all the greater as that was the season when the STTA had introduced an experimental service rule(throwing the ball up to shoulder height).The rule ignored somewhat in the local Dundee league resulted in Don being foul served several times in both sets in the final yet he concentrated and played brilliantly to go on to win.
The Heckler and Panmure club championship and the Dundee closed were close to being the same event by the time Don was 20 with the Highlanders and lowlanders being the two top teams winning both league and cup for several consecutive seasons. Don won the individual title most years beating me in the final on several occasions often despite being well behind in the final set I hardly ever won against him often as a result of his fantastic backhand hit. He also won many doubles titles with his close friend Brian Lynch(another Dundee stalwart who has passed away).
For personal reasons Don played mainly in Dundee with occasional representative appearances and in the Midlands open usually held in Dundee. I know he took up golf and gradually played less and less. As well as Don I grew with Don's peer group from the juniors and there was no doubt in my mind had Don wanted to focus his mind on table tennis he would have played many times for Scotland. He was as talented as Richard Yule also my teammate as a Scottish junior and Richard went on to become one of Scotland's greatest players .I did not see Don for perhaps 40 years but I still have his picture in my mind at the other end of the table playing brilliant loops from both wings using his quick feet and reactions. He was my teammate my adversary and my friend but was always better than me.
Don McGilvray
Donald started as a Junior and played in the Eagle Comic tournament held in England.
He was coached in the beginning with Heckler Juniors and then had a short spell with Rifle Club, then he returned to Hecklers to play in the Highlanders Team mainly playing with Brian Lynch and Dave Moncur. This team went on to win several Div.1 trophies in the late 1960s and in to the 1970s along with other Cup events.
In the Dundee & District Open competitions Donald won 2 Juniors Titles, 7 Men's Singles, 10 Men's Doubles all with Brian Lynch and 6 Mixed Doubles all with Mabel Neish. Other Dundee & District events to his name were 3 Ballot Doubles, 3 Fowler handicap and 3 Corder Trophy. Donald also played in many out-of-town events and competitions with fellow players from Dundee.
Away from Table Tennis Donald was an accomplished organist, playing the Church organ and was also in a band that was well known in Dundee.
Other sports he enjoyed was Tennis and golf, his lowest handicap I am told was playing off 4.
Donald was an incredibly competitive player and naturally talented at Table Tennis which can clearly be seen by his records, it was always a pleasure to watch him playing which no doubt led to other Juniors following in his footsteps.
Ward Road Gym Practice Suspended
As you will know, Dundee City has today been placed in Tier 3 Covid restrictions. As travel between Tier 3 and Tier 2 areas is not permitted (except for essential specified purposes which do not include indoor sports) many players living in Fife, Angus and Perth and Kinross will not be permitted to attend practice sessions at WRG. Travel restrictions also affect several committee members and volunteers, and will impact on our ability to manage the sessions. We also have a moral obligation at least to discourage non-essential travel when the purpose of the restrictions is to drive down the prevalence of the virus.
It may also be worth pointing out that any session held under Tier 3 restrictions would not in any event have been able to take place with bubbles of six players. Under TTS guidelines, every session would have meant players being allocated one practice partner for the whole duration of the session and an overall limit of only 12 players.
The Management Committee has therefore decided that it should temporarily suspend all practice sessions at WRG after the session tomorrow evening Friday 30 October. We will monitor developments closely over the next two weeks and be in touch again as soon as circumstances allow play to resume.

Best wishes and stay safe.
Arthur


Arthur Pritchard (Chair)
Spam Email:
Several of the office bearers have received scam messages in the last few days. If you receive any unusual messages from any of us (whether from any …..@dtta.co.uk email address or our personal addresses) do not open any links or attachments and delete the message in case these are malicious. These crop up fairly regularly but are usually easily identified and harmless if ignored and deleted.
Murray Cormack Shield
Congratulations to Euan Steel on being awarded the Murray Cormack Shield for his excellent performances throughout the 2019 to 2020 season. The photo shows Euan receiving his award, with appropriate social distancing, from D&DTTA Chairman Arthur Pritchard
Coronavirus (COVID-19) Update September 2020, plans for Table Tennis to resume at Ward Road Gym.
Dear all
Thanks to everyone for their patience and forbearance while we worked out how to get back to playing table tennis! The good news is that practice sessions will resume at WRG from Tuesday 15 September. However, numbers will be limited which means you will have to book in advance. You will also have to comply with the safety measures that have been put in place and we make a plea to all to follow these as stringently as possible.
You can find out about how to book your place at a session in the attached PDF file which also explains the safety procedures. Please read all of this material carefully to ensure that your booking request can be processed promptly and without having to seek clarification or further information.
If you have any questions about the booking process please contact Dave Beveridge at treasurer@ddtta.co.uk Please contact me at chairman@ddtta.co.uk if you have any questions or observations about safety procedures.
I hope you will all feel comfortable about playing again and I look forward to seeing you at Ward Road. Fingers crossed that we can have an uninterrupted period of play and that we can return to a more normal playing environment in the not too distant future.
Best wishes.
Arthur Pritchard (Chair)
Urgent Coronavirus (COVID-19) Update, 19th March 2020:
Following instruction from Table Tennis Scotland, all DDTTA table tennis activities (i.e. league competition, practice/coached sessions and 'active and healthy' community TT) are suspended until further notice.
Elaine Forbes (Chair)
Plebeians Club Championships
The Plebeians Club Championships were held at Forthill on Sunday 8th March 2020.
In the Club Championship itself, players were divided into four groups with top seeds Pete Yearworth, David Sim, Ian Hunter and Tony O'Shea all coming out on top.  At the Quarter final stage David and Pete were successful in straight games against Jill Milne and Eric Brown respectively while Ian was taken to 4 games by the evergreen Rich McLaren. The remaining tie saw Euan Steel race in to a 2-0 game lead against Tony O'Shea however Tony summoned up all his experience to turn the tide and edge home to the Semi Finals in 5 games.
The first Semi between Pete and Tony proved fairly straightforward for Pete while the second Semi saw the old firm of David Sim and Ian Hunter in combat. After sharing the first two games David edged into the lead by winning Game 3 before a fraught fourth Game which David won after six deuces. Opinions were divided by the participants as to whether the win was deserved !!
The Final was a really good match with Pete winning Games 1 and 3 with David levelling the match up on both occasions and taking the tie into a decider.  Despite having an early edge in the final game David couldnt quite sustain that level and Pete edged home 11 – 8.  Pete is absolutely no doubt a deserved first time winner of the Plebeians Club Championship Trophy.
David and Pete
The Handicap Event was straight knockout with eleven participants playing the best of three handicapped Games. The First Round ties saw both Ian Hunter and Pete Yearworth needing three games to win through against Carol McLean and Jill Milne respectively. In the Quarter Finals Euan Steel won the first game 21 – 20 against Bill Liddle before Billy took the match in to a decider with some spirited play in the 2nd game. Euan held his nerve to progress to the Semis 21 – 18 in the decider. In another of the Quarter Finals Eric Brown firmly held the upper hand winning the first game 21-20 then catching up with Logan Smith and taking the lead in the 2nd Game only for Logan to upset the applecart and take the match into a decider. From there it was downhill for Eric and Logan won the decider fairly easily. The Quarters also saw Ian Hunter and Pete Yearworth fall by the wayside to Rich McLaren and Tony O'Shea respectively.
Ian and Jill
Both Logan and Euan won their Semis fairly easily setting up a final between the two youngest participants in the event. In Game 1 Euan couldnt peg back Logan's lead and in fact it took him all his time to level the match in Game 2 winning 21 – 19. In the third Game Logan couldn't find the form of earlier and Euan won fairly comfortably.
To complete the afternoon / evening there was a Ballot Doubles competition with some promising partnerships coming out of the draw. None more so than the two finalists Ian with Jill and David with Carol. In the Final David and Carol levelled up the match at 1 game all after a 12-10 triumph in the 2nd. That's as good as it got for Carol and David with Ian and Jill romping to a 4 Game win.
Euan and Logan
A sociable afternoon was enjoyed by all with the refreshments provided headlined by some very tasty steak pies and cake. Who said Plebs players were all athletes ??  
Club Championship     Winner – Pete Yearworth                      Runner Up – David Sim
Handicap Singles          Winner – Euan Steel                              Runner Up – Logan Smith
Drawn Doubles             Winner – Ian Hunter / Jill Milne           Runner Up – David Sim / Carol McLean
DDTTA benefit from donation from CJ Lang, the SPAR wholesaler for Scotland
Dave Beveridge and Elaine Forbes recently attended Spar's Charity Giveaway at the MacAlpine Road store to receive a cheque for £1000 on behalf of Dundee & District Table Tennis Association. This donation will be put to good use in DDTTA's work in offering the sport to all ages and standards.
The award was part of a generous act of CJ Lang, the SPAR wholesaler for Scotland, to give £1000 to a charity in the vicinity of each of their 114 stores to mark the 100th anniversary of the company.
Dundee Closed lives up to expectation !
A great day's play was anticipated at this year's Closed Championships at WRG on Saturday 22nd January given not only the size of entry but also the strength in depth - when the time came, the event certainly did not disappoint.
However, much of the tournament's success rides not only on the excitement of the matches on the table, but also depends on the players being prepared to play themselves into the ground if they enter the maximum number of categories available to them. Throw in umpiring visits to the playing arena as well, and it is a hectic day.
Special mention here to Bill Beattie, who answered the call for volunteer umpires -Bill did a six hour stint of umpiring and his help contributed greatly to the fact that we managed to put the last final on the table only nine hours after the first ball was struck at 9.30 am.
Here follows the roll of honour, but everyone who entered the Championships added value to the day.
Event Winner(S) Runner(s) -up
Ladies' Singles Fiona Kinloch Tanya Kapelyukh
Men's Singles John Hannah Zeesth Naseem
Ladies' Doubles Jill Milne & Elaine Forbes Fiona Kinloch & Emma Bissett
Men's Doubles Mark Lundberg & Zeesth Naseem Callum Riddoch & John Hannah
Mixed Doubles Callum Riddoch & Emma Bissett Ryan Docherty & Fiona Kinloch
U21 Singles David Hay Jacob Munro
Vets' Singles Iain Martin Pete Yearworth
Vets' Doubles Iain Martin & Pete Yearworth Ian Hunter & David Sim
Ballot Doubles Callum Riddoch & Pete Yearworth Grant Williams & Aaron Robertson
Silver Bat Jacob Munro Euan Steel
Previous "Hat Trick" Success at Scottish Schools
At the end of the report on the recent Schools Qualifier a question was asked about previous years where 3 players from Dundee had qualified. In the Noughtie's years Stuart Halliday, Ian Johnston, Aiden Flegg. More recently current coach Callum Riddoch all qualified and let's not forget that this is Andrew Nimmo's second year, however these successes were one player at a time– over to Fiona Kinloch.
"Any prizes to the quiz question as I have an answer.

Long long ago back to the year 1990 there were three players from Dundee
Susan Gray (now Dyson ) Kenny Campbell and someone called Fiona Scott(myself) represented Scotland in the Isle of Man. The Dundee contingent was boosted by Sandy Elrick and Murray Cormack travelling as NPCs.

If memory serves my correct the year earlier I think Susan, Kenny and
Jim Dyson played in 1989 . I was selected for the team but could not
attend as I had a family holiday booked .

I'm sure there were a few players round about this time late 1980s that
played for the schools team."

Fiona
Huge success at Scottish Schools Qualifier
Six of our Junior players travelled to Bathgate Academy through Sunday's storm to take part in the Scottish Secondary Schools Finals.
With little previous experience at this level, Jonny Laing understandably found the going tough in his initial group in the U'14s but kept his spirit up well to fight hard in the consolation event, winning two matches to finish in 4th place out of six.
Coach Grant was similarly pleased with Logan Smith's attitude in the U'16s. Without a win in his first group, Logan let a five-setter slip away at the start of the consolation event but regrouped well with three wins to finish in 3rd place.
Euan Steel competed strongly in his initial group, winning one match and forcing two more experienced players to play their best to overcome him. Euan then went on to take the winner's medal in the consolation, winning five out of five in straight sets.
Jacob Munro emerged from his preliminary group to reach the final group of four, which guaranteed him a place in the Scottish Schools' U'16 team. Jacob then managed a further win to give him 3rd place finish.
In the U'18 event, Andrew Nimmo and David Hay competed in one group of eight with again the target of a top four finish to ensure Scottish Schools caps in Cardiff in June. The smiles in the photo show the result -they made it with Andrew finishing 3rd and David 4th.
Well done to all the players on the day and thanks to coaches Callum and Grant and to all the parents who spent a nail biting day.
And we finish with a quiz question - have three Dundee players ever previously represented Scottish Schools at the same Home Internationals weekend?
David, Andrew and Jacob
Jonny, Euan and Logan with Coach Grant
Excellent results for Dundee National League Teams.
There was a tremendous performance by the players from the four DDTTA teams in the final session of the Scottish National League played in Perth on Saturday.
Dundee "C"'s trio of Grant Williams, Jacob Munro and Andrew Nimmo defeated Knightwood and Stirling B to take the Division Five title, having only dropped two sets in seven fixtures over the whole league series. Guthrie Park's threesome of John Anderson, Ian Farquhar and Andy Crawford also won their fixtures against Joe Wilson A and Edinburgh International B to ensure the second promotion spot from this division.
Fighting for survival in Division One, Dundee "A" had to dig deep but excellent play from Zeesth Naseem, Mark Lundberg and Robert Toth earned them a safe fifth place finish as a reward for beating Dumfries A and drawing with South Ayrshire A.
Dundee "B" probably started the day with least nailbiting, but Callum Riddoch, Stuart Halliday and David Hay produced a sound win against Edinburgh International "A" and a draw with South Ayrshire "B" secured them a fourth place finish.
Credit must also go to the players who did not feature on the last day, but who performed well for their teams in earlier rounds: these included Ryan Docherty and Jason Fleming for "A", Gao Chen Yuan for "B", Paul Monteith for "C" and Derek Mitchell and Aaron Robertson for Guthrie Park.
Dundee B
Dundee C
Guthrie Park
Junior Closed Saturday 18th January
After a busy afternoon's play at Ward Road Gym on Saturday 18th,the first three individual titles of 2020 were decided.
Three "first timers" made up the entry for the Minor Boys event. Ben Harrison and Louie Wilson from Guthrie Park's junior coaching travelled from Brechin to take part alongside Sam Prophet from WRG's Thursday night coaching group. After a number of close sets, Louie finished in third place and Ben in second, with Sam winning the group.
Nine players contested the Cadet Boys' Singles, playing in three preliminary groups of three. Nairn Nixon, Euan Steel and Mackenzie Rough won through to the final group of three. The first match featuring Mackenzie and Nairn was closly contested with the former winning through 11-8 in the fifth. Euan then won both his matches to take this year's Cadet title.
Six boys took part in the Junior category. From two initial groups of three, four semi-finalists emerged with David Hay being drawn against Euan and Andrew Nimmo and Jacob Munro squaring up to each other. David proved just too sharp for Euan, while Jacob accounted for Andrew in four sets. In an entertaining final enjoyed by the spectators on a busy balcony, David ran out the winner 11-8 12-10 11-9.
To round off the afternoon for the Cadets and Minors, David Sim masterminded a handicap event. Schoolmates Euan Steel and Logan Smith won their way through to the cliffhanger final - Euan winning the sudden death point at 20-20!
Photos show Minors (left to right) Louie, Sam and Ben
 and Cadet winner Euan with runner up Mackenzie
Div 2/ 3 Championships / Fowler Handicap
A great, if exhausting, day's play was enjoyed by the entrants in this season's Div2/3 Championships, incorporating the Fowler Handicap open to all divisions.
Howard Lee ( St Andrews) emerged from a closely fought group to take the Division Two Trident Challenge Trophy with Mylnefield's Bill Beattie pipping Telecoms' Emma Bissett for runner-up spot.
The final of the Division Three Challenge could not have been closer.  Under 15 player Euan Steel (Plebeians) just edged out Guthrie Park's Aaron Robertson in five tight sets, winning 7-11, 13-11, 14-12, 8-11. 11-9.
Euan continued his successful day, winning the Under 25 title against Isaac Small (Mylnefield) and partnering Murray Johnstone (Guthrie Park) to victory in the Hardy Ballot Doubles with Carol McLean (Plebeians) and Eddie Dougan (Mylnefield)going down in a four set final.
Aaron got his name on the winner's board with a final victory against Howard in the Over 25s category and then added to the drama of the day when, leading 30-25 in the final of the Fowler Handicap Singles, he  could not quite get over the finishing line. Mylnefield opponent Andrew Nimmo drew level at 30 all and then took the last title of the day by winning the "sudden death" point.
Ronnie Turnbull Quaich -2019. The Scottish Ping Pong Championship 21st December 2019
I've put a few in this report but for more a great range of Photos have been made available thanks to Ciro Art Studio https://tabletennis365.com/aberdeen/Gallery/1340/WCPP_Scottish_Sandpaper_Bat_Qualifier_2019-20
Video is available of:
                The final Gavin Rumbgy v Ian Johnston:- Click Here: Links to You Tube
                Ian Johnston v Calum Morrison :- Click here: Links to You Tube
Presentation
The finals of the "sandpaper" Table Tennis saw 36 players, a mixture of qualifiers from Scotland's other sandpaper events and direct entrants with more than 100 entries, gather at Ward Road Gym. With the significant prize of two places in the World Championship of Ping Pong being held at the Alexandra Palace in London at the end of January.  It bodes well for the format in Scotland that the event showcased an excellent combination of competitive matches with a friendly and social occasion.
DDTTA were well represented and the organisers would like to thank all players and those who came to watch for taking part and helping ensure that the event ran well.
The players were split into 6 groups of 6, with 2 from each group qualifying for the last 16 and the 3rd / 4th place finishers going into a play off for the remaining 4 places.
Group 1 started with Jacob Munro putting up a good effort in his loss to Scottish Number one Gavin Rumgay -10,-8. Excellent performances by Graham Muir earned him second place to Gavin and a place in the last 16.
Jacob takes on Mark Turnbull
In group 2 Ian Johnston came up against ex teammate Iain Martin. Iain put up a good fight before a good second set for Ian gave him victory. Iain continued his fine form finishing second in his group with Paul Monteith 3rd. Haydn Jackson picked up 4th place only losing out on 3rd in a close match with Paul.
I had to include these two Paul Monteith shows how to serve legally, something many of us (yes I know I'm guilty) could learn from!
Group 3 saw Gordon Muir, who finished 3rd last year, struggle to get into a rhythm. Charlie Matthews and Peter Aird, both new to the event this year, played excellent Ping Pong to pick up 1st and 2nd Place with Gordon in 3rd. Ian Hunter and Winnie Stein competed for 4th place with Ian wining it in 2 games. Special mention to Guest player Dave Tiplady who travelled up to play despite not being eligible for the knock out rounds.
Peter Aird and Ian Hunter
Group 4 saw John Hannah in blistering form. The Aberdeen regional organiser (and "official" photographer) Gregor played well to pick up second.
John Hannah with Umpire Peter Yearworth
Young Charlie McGowan from Murrayfield, was the star of a very tough group 5 only losing to group winner Calum Morrison. Late entry Jason Fleming sneaked into 4th place, while Grant Williams, struggled with the format this year. to get used to the different format.  Our coach Callum didn't recapture the form he discovered last year, and came in 3rd place.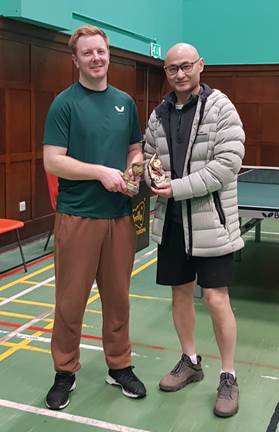 Jason and Grant Williams show more good examples of clean serving and Callum's ready to hit whatever comes back!
In Group 6 another tough and hard fought set of matches saw Charlie Ellis, a previous champion, in fine form. Andrew Nimmo came back from a game down against experienced sandpaper player Gary McIntyre to take second place.
In the break after the group stages the draw for the knock out stages took place, leaving John Hannah with a understandably frustrating feeling of Deja Vu as, once again, he ended up in Gavin's half of the draw.
Callum Riddoch, Jason Fleming and Peter Yearworth all fell during the play-off rounds. Gavin Rumgay put out Paul Monteith and then Peter Aird who had made an excellent run to the quarter finals. John Hannah managed two excellent results against last year's No 3, Gordon Muir and previous champion Charlie Ellis to progress, and Ian Johnston made up the 4 semi-finalists.
The two semi finals, played to 5 sets, were excellent matches. Calum Morrison who defeated Ian in Johnston their last meeting came out flying counter hitting Ian's hits and coping with Ian's services in taking the first set 15-14. Calum also pushed Ian hard in the second, however Ian's greater experience and practice came through as he won in 4. In the other semi final John Hannah took an excellent second set on his way to a 4 set loss to No. 1 Gavin.
The final consisted of 3 excellent sets with Ian Johnston taking a surprising 2 set to 1 lead. A mixture of tactical changes from Gavin and Ian becoming tight as he saw his chances left Gavin comfortably take the 4th and 5th sets to win 3-2.
The consolation event was so closely fought that the rules were changed part way through the competition dropping the matches down to 1 set. After some epic matches especially Winnie Stein v Fiona Kinloch, local star Peter Yearworth was pipped to first place by the excellent Mark Turnbull who was delighted to take the plate in the cup named after his father.
Ian, Mark and Gavin at the presentation of the first prize, then Peter has to wrestle the Plate runner up's chocolate prize off presenter Juliet.
Congratulations to Juliet on organising such an excellent event with over 100 having entered we were able to ask for consideration for a third place at the WCPP unfortunately the entry for the Word Championships was already full. However if we can keep the numbers up Matchroom have suggested that we discuss it with them again next year.
Thanks to all who took part in the competition, all who came to watch (and help out). Further thanks to Ian McLagan who took on the role of Referee and umpired the final. See you all next year J (actually later this year as I finally get round to writing this report!). To those who haven't tried yet sandpaper is a fun and social way to enjoy our sport, and can potentially improve your Table Tennis.
Don't forget to watch the World Championships on Sky on 25th and 26th January!
Report by Derek Johnston
Edinburgh Banded Competition 30th November 2019
John Hannah – Winner Band 1
The day after competing in the Dundee Sandpaper Competition any thoughts that the sandpaper format has a negative impact on performance were laid to rest when John Hannah, Andrew Nimmo, Jacob Munro all performed strongly. They along with Ryan Docherty were up bright and early to travel through to Bathgate where John won the band 1 event. An excellent report can be found on the Table Tennis Scotland website.
https://tabletennisscotland.co.uk/hannah-takes-banded-honours/
Edinburgh Closed Table Tennis Championships 1st December 2019
Peter and Andrew
A good weekend for Andrew Nimmo and & Peter Aird in the Edinburgh Championships. Andrew, continuing his fine form from Saturday's banded event beat Borui Chen in the final for the Juniors.
Peter put Andrew out in the semi finals of the Band 1. Peter was then beaten in the final by Gordon Muir.
Dundee Ping Pong Championships
Dundee University Students Mini Sandpaper Tournament – Thursday 13th December
Some of DDTTA members may be aware that we share the hall with Dundee University students for part of our session on a Thursday night.
With the students unable to make the main Dundee Sandpaper Regional qualifier for the Scottish Ping Pong championships a group, reduced numbers because of exams, election and trips home for Christmas, held a competitive but fun tournament with a place at the Scottish Championships on offer.
On the night victory went to Emma Goux in a closely fought final with Stephen Rubery. With Emma going for home for holidays, semi finalist Jehangir Chaudhry was deputised, offered and accepted entry into the Scottish Event. Though all the students were novices at the sandpaper format they quickly adapted and the standard quickly improved on the night.
Continuing with fun aspect of the evening the students asked that local coach Calum Riddoch's "large table" set-up be left up so that they could play on it.
It's worth noting that Willie Nimmo, Andrews Nimmo's dad was showing off his skills with a sandpaper bat during the student's warm up. It was quickly clear that Andrew has competition in the Nimmo household!
Main Event
On Friday 29th November the second annual Dundee Sandpaper championships were held at Ward Road Gym. With a few late call offs the 14 remaining players split into 4 groups.
Many of the players had never played Sandpaper table tennis before and it was great to see such a good atmosphere and the standard improving so quickly during the night. The often expressed concern that the sandpaper game might adversely affect the form of the players were quickly dispelled by excellent results in the Scottish Edinburgh Banded Table Tennis event on the following day, and again in the Edinburgh closed on the Sunday. Reports to follow
In group 1, top seed John Hannah was given good games by both Ian Hunter and Peter Yearworth before winning the group undefeated. After a close match with Ian, Peter grabbed the runner up spot.
Group 2 saw Paul Monteith, who was rushing to get off to work, lose 3 sets 15-14. Chung Yaun Gao had a comfortable 2 set win over group runner up Howard Lee.
In Group 3, Andrew Nimmo and Iain Martin both showed fine form culminating in their head to head match, Andrew took the first set 15-14 giving him the confidence to go on and win. Bill Beattre, improving as the night went on took a comfortable win over organiser Juliet Johnston.
Group 4 Grogor Ksaisek, from Aberdeen won the group after a very close 3 set Match with Jacob. Gregor's recent run out in the Aberdeen event giving him the edge on the night. Derek Johnston came third in the group. Claiming injury, he played his last match so slowly that opponent Fiona Kinloch, the umpire and the organiser gave up all hope of the match ever finishing.
By the first round of the knock out John Hannah was really in his stride though the match with Howard was closer than the 15-4, 15-6 score-line might suggest. Andrew and Jacob played what appeared to be the most relaxed game of the night with Jacob running out the winner. Gregor's experience showed once again against Peter and Gao defeated Iain Martin.
John and Gregor won their respective Semi Finals overcoming stiff resistance from Jacob and Gao respectively before John went on to win, not dropping a set all night.
John and Gregor with Ian McLagan
In a very closely contested consolation event Ian Hunter took victory from Fiona Kinloch and Bill Beattie but only after two 3 set matches.
Ian, Fiona and Bill
Development Afternoon October 2019
Making use of its Development Grant from TTS, Dundee & District TTA hosted a session on Saturday including cadets not only from our own area but also from Stirlingshire, Perth and Edinburgh.
Assisted by Lisa Noterangelo, Gillian Edwards, Carol McLean and Emma Bissett, lead coach Callum Riddoch delivered a fast moving two hour session which had the youngsters honing their skills in many novel ways.
After a short refuelling break, the players were then organised into teams, each playing with a partner from a different area. Following everyone playing ten sets of singles and five of doubles, two teams tied with the highest number of wins - Euan and Chenyang managing a last gasp 4-1 win against Ben and Sophia to draw level with them on 17 points:- but hopefully all the youngsters were winners on the day which was as much about helping their social confidence when going on to attend tournaments in big bustling venues as it was about table skills.
Jim Houghton
Stewart McGowan, President of TTS, visited WRG recently to present Jim Houghton with his certificate of Honorary Life Membership of Table Tennis Scotland.
Not only has Jim been a stalwart of TelecomTT in the DDTTA league for over fifty seasons, but has received this honour in recognition of his outstanding work in disability sport. Jim's contribution to Angus Disability Sport, dating back to 2000, led to him being appointed head coach for TT for Special Olympic Tayside and then, in 2003, a similar position for Great Britain Special Olympics, taking him to European and World Championships including a trip to Shanghai. Despite this wider role Jim still found time to keep up his local ties and coached six players from Tayside to representative honours with GB.
David Axton.
We are sad to announce the death of Dave Axton (Telecoms Table Tennis Club).  Dave loved his table tennis and would risk hassle at work to have, or watch, a game at lunchtime.  Whenever asked, he was always keen to step up as a "suby" – last season he was part the Tass team that won the Consolation Cup.  His own team, Telsports, won the Consolation Cup for the last 2 seasons.  A fiercely competitive guy; loved a bit of banter and always had a smile whether he won or lost.  Dave's passing is a sad loss to the table tennis community.
"EXCLUSIVELY GIRLS"
Saturday 26th October, Ward Road Gym, 9:30am to 12:00 noon
All female players in Dundee & District are invited along for a free morning's play. Mixing young and old, experienced and new, competitive and social.
Bring along a new player to join in or come on your and give table tennis a try.
Contact chairman@dtta.co.uk
National League Starts 12/10/19
Coming up this weekend will be the first series of matches in the Scottish National League at Bell's Sports Centre Perth, on Saturday 12th October with three Dundee teams competing again along with a new entry from Guthrie Park TTC in Brechin.
Dundee "A" will find the going tough having won promotion to the top division last season. Jason Fleming and Mark Lundberg return to the fray, and are joined by Zeesth Naseem as replacement for Gillian Edwards who has retired from competitive play. Ryan Docherty will make up the "A" squad which will have to be in sharpest form when taking on last year's overall winners North Ayrshire "A" in addition to Edinburgh teams Murrayfield "A" and North Merchiston.
Dundee "B" stalwarts Stuart Halliday and Callum Riddoch are joined in their quest to win Division Two by junior David Hay who is cutting short a family holiday in Florida to return in time to play. Their day will have an east coast flavour, with opponents from Murrayfield and two teams from Aberdeen.
Dundee "C" will this season have the benefit not only of Grant William's playing skills but also his coaching acumen as he mentors juniors Andrew Nimmo and Jacob Munro in Division Five. The wily experience of Paul Monteith and Jos Berkhout will add depth to the squad. A tasty fixture is first up against Guthrie Park with local bragging rights at stake, followed by matches against Joe Wilson "B" from the central belt and Aberdeen "C"
Guthrie Park's squad of Andy Crawford, Ian Farquhar, John Anderson, Derek Mitchell and Aaron Robertson will take on Stirling "B" and Glasgow team Knightswood in addition to Dundee "C."
Good luck to all four teams at the start of their campaign.
Sandy Elrick - Died Saturday 21st September.
Sandy had table tennis running through his veins. A league player, mostly with Telecoms TTC and an active D&DTTA committee member over many years. He served on the committee of the Scottish Table Tennis Association from 1986 to 1998 and as Chairman between 1995 and 1998. Sandy led the team that organised and ran the Commonwealth Table Tennis Championships in the Kelvin Hall in 1997. He was also qualified International Umpire.
At local level we all have fond memories of Sandy, from his ritual removal of his tracksuit bottoms at the last minute prior to his match starting, to his nimble footwork kicking the table tennis ball against the wall to achieve a bounce that would allow him to catch the ball rather than struggle to pick it up off the floor.
He only stopped playing the game a couple of years ago at the age of 83 – finding that recovering from the efforts of a match was beginning to stretch to 2 or 3 days.
Sandy was the main driving force behind the saving and regeneration of Ward Road Gym. The building, which had no heating and very little else going for it, was being used 5 nights a week by many groups including D&DTTA. In 2001 the council indicated that they intended to sell off the building – the likelihood being that it would have ended as yet another pub or club in the city centre. Sandy pulled together a group of people and formed a Charitable Company to manage the way forward and got an agreement from Dundee City Council that they would lease the building to this new company. After many meetings with the City Council and a lot of fundraising (£335,000), enough money was raised to provide the facilities that we all enjoy today.
Nothing was too much trouble for Sandy, always willing to help and give advice --- he'll be sadly missed.
Sandy with his Telsports leading his team mates, Rob and  Dave, leading them to  victory in  the Halliday Cup in 2018.
"Over Fifties Fridays"
Weekly social table tennis starts up again at Ward Road Gym on Friday mornings from 13th September when newcomers and returners alike will be welcomed by our team of volunteers any time between 10.00 am and 12noon.
Bats, balls, games, cups of tea and chat are all on offer on a morning of activity and new friendships.
Contact chairman@ddtta.co.uk for more details
"Come and Try" Table Tennis Evening
Anyone from 8 to 80 who feels like giving table tennis a go, or who wants to rekindle an old interest in the sport, is invited to Ward Road Gym on Thursday 19th September between 6.00 and 8.00 pm for a free informal session under the supervision of local coach Callum Riddoch.
Contact chairman@ddtta.co.uk for more details
District Summer League
1 Some of the Summer League teams
Friday evening saw the DDTTA Summer League 2019 draw to a close in a fun celebration night filled with friendly competition, giant table tennis and of course plenty of sweeties!
The summer league involves teams of 2 players from different divisions in the DDTTA league, and our junior development squad, coming together to enjoy some extra competition over the closed season.  12 teams competed for our 5 titles this year– 'Overall Team Winner', 'Player 1 Winner', 'Player 2 Winner', 'Doubles Winner' and 'Development Squad Winner'. There was one pairing in particular who dominated this year's summer league consistently putting in impressive performances all summer. Up and coming star of the DDTTA David Hay was on top form not losing a game all summer to take our Player 1 title this year. Team mate Glenn Christie put in an equally solid performance including some massive wins against Player 1's to storm to success in the Player 2 category. Together they proved too strong for all the other pairings and were well deserved winners of this years 'Overall Team' category.
2 David and Glenn our Overall Champions
The doubles category went down to the wire with Callum Riddoch and Emma Bissett just overtaking David and Glenn in the last week to take the title.  The development squad competition was also closely fought with Nairn Nixon taking the title and Robb Lawrence coming in close second. All of the development squad juniors who competed put in good performances and were a credit to themselves and the league.
Friday evening was a great way to round off the competition with 10 players turning up for an evening of ballot doubles competition. Pairings were drawn based on summer league performance results and there were many closely contested matches throughout the evening. Ian Hunter and Emma Bissett sneaked to victory by just one set in a countback involving 3 of our pairings. Andrew Nimmo and Andy Reid, Fiona Kinloch and Jacob Munro were unlucky to lose out with all 3 pairings only losing one match all evening. Following the doubles competition there was some free practice on our 'giant' table with lots of laughs being had by all! 
3 Ian And Emma
We would like to thank all players who were involved for making the summer league the friendly and enjoyable competition it was. It has been great seeing players from across all our divisions mixing and getting the opportunity to play against opponents they wouldn't normally encounter in regular season competition. It has also been nice seeing so many people playing matches and practicing throughout the closed season - there has definitely been a great buzz in the DDTTA venues this summer!