NEWS
Dundee Hecklers Club Champs, 24th April 2019
On Wednesday 24th April the Dundee Hecklers held their Club Championship based on the handicap system, playing 2 sets to 26 against all participants (8).  Marion Davidson was a worthy winner with a total of 9 points, Runners up were Jos Berkhout and Scott Thompson with 8 points.
 It was a fun evening and it took the only women in our club to beat all the men, glad she is in the Tigers team.
Marion Davidson
Report by Kenny McLaren
Halliday Cup 16th April 2019
In the last event of the DDTTA winter season, six teams lined up at Ward Road Gym to contest the Chris Halliday Cup in memory of one of our committee stalwarts.
The format was the same as previous seasons with the 3 players in each team alternating on the table, each allowed to play a minimum of 3 points and a maximum of ten points in any one visit. The winning team was the first to reach 61 points.

In Group One the holders Telsports (Telecoms TTC) lined up with Missiles (Forthill) and a young Ward Road select. Despite some gallant resistance the Ward Road Select found the going too tough losing fairly heavily to both their opponents. In the clash of the two unbeaten sides Telsports proved more than a match for Missiles however both teams progressed to the semi-finals.

Group Two proved much closer and it needed a count back of points before Buccaneers (Guthrie Park TTC) were declared the winners. The first game saw Buccaneers triumphant over a young Astronauts (Forthill) side with the most emphatic winning margin of the Group. Astronauts then bounced back with a narrow victory over Squires before Squires lowered Buccaneers colours in the final game in another tight encounter. This was enough for Squires to progress to the Semi-finals at Astronauts expense.

In the first semi-final Buccaneers faced Missiles and enjoyed a fairly comfortable points win in a match with many good rallies.

As the second placed team in Group Two, Squires faced Telsports in the other semi but it was the Telephone House team which proved the stronger.

With a rerun of last season's final, Telsports' threesome of David Axton, Emma Bissett and Rob Fotheringham started the stronger but the three Buccaneers, Stewart Ferguson, Murray Johnstone and David Clark, came up with some swashbuckling play to catch them at 33-all. However, Telsports' canny use of tactics and a willingness to change players quickly when things weren't going well saw them run out victors by a score of 61 - 50. Many congratulations to Telsports for their back to back wins in this competition - can anyone beat them next season?
Halliday Cup Champions 2019 – Telsports


Halliday Cup – Runners Up – Buccaneers
Gillis Challenge Cup 9th April 2019.
The final night of individual play for the winter season was held at Ward Road Gym on Tuesday evening when fourteen Division Three players "signed up at seven" for the Gillis
Challenge Cup. Stewart Clark, Dougal Ogilvy and Andy Reid all emerged from group play reasonably unscathed to reach the semi finals. However last year's winner, Richard McLaren, was made to fight all the way to a deuce in the fifth win against up and coming youngster Euan Steel to ensure his place in the latter stages.
Team mates Andy and Rich faced each other in the first semi final with  Andy's attacking game taking him through to the final.
The second semi was a closer affair with Stewart taking the first two games 11-9 against Dougal, but the Comets' man hit back and drew level at 2-2. Stewart started the decider strongly and didn't allow Dougal back into the game but the length of this match perhaps told on Stewart who had no answer to Andy's strong attack in a final of contrasting styles.
Winner Andy Reid and Runner up Stewart Clark.
In the Consolation doubles event, Euan Steel and Sandy Pearson defeated
Charlie Ross and Eddie Dougan in the final.
Toth Takes Title – Edinburgh Banded 30th March 2019
Dundee players dominated the Roll of Honour at the final Edinburgh Banded event of the 2018-19 season.  Robert Toth claimed the Band 1 trophy, along with excellent results by other local players:
Band 1 Winner - Robert Toth
Band 2 Winner - Peter Aird
Band 3 Winner - David Hay    Runner Up - Andrew Nimmo
Band 6 Winner - Jacob Munro
Mohammad Al-Rubayee came comfortably central in his Band 7 event.  Quite an achievement for Dundee and in particular Mylnefield.
There is a full report, with results, on the Table Tennis Scotland website.
Cancelled – selected Ward Road Thursday sessions
Please note that there will be NO table tennis at Ward Road Gym on Thursday 4th April or on Thursday 25th April.  The 25th is the day of the award presentations and AGM at Forthill (7.15pm) – all are welcome to attend.
Advance notice: there will also be no coaching at WRG during the first two weeks in July.
Scottish Interleague event at Bell's Sports Centre on 23rd & 24th March
Good luck to the 25 players who will represent DDTTA at the Interleague this year.
Minor Boys : Nairn Nixon Jonny Laing Ross Marshall
Cadet Boys : Euan Steel Mohammed Alrubayee Jamie Harle Robb Lawrence
Junior Boys : David Hay Andrew Nimmo Jacob Munro
Senior Men A : Robert Toth Mark Lundberg Michael Hahn
Senior Men B : Stuart Halliday Ryan Docherty Grant Williams Callum Riddoch
Ladies Vets : Fiona Kinloch Carol McLean
Men's Vets A : Jos Berkhout Peter Aird Paul Monteith
Men's Vets B : Iain Martin John Anderson Andy Crawford
Ward Road Gym – Directors Day 16th March 2019
A group of 15 non league players from schools across the region took part in the Table Tennis competition as part of the annual Ward Road Gym Directors Day. The group was made up to 8 teams of 2 with thanks to league player Mohammad Al-Rubayee who agreed to play left handed (he is right handed).
The teams were:
           Arbroath High School: Logan Smith and Lewis Crawford
           Dundee High School 1: Sofia Kapelyukh and Kaile Liu
           Dundee High School 2: Ade Adenyi and Timi Kalejaiye
           Grange Primary School:  James Hay and Declan Whatley
           Harris Academy: Haydar Al-Rubayee and Mohammad Al-Rubayee
           Morgan Academy: Kelsay Simpson and Ross Marshall (on loan from Craigie PS in Perth)
           Monifieth High School: Robb Lawrence and Lachlann Henderson
           Tayview Primary School: Owen Millar and Thomas McConnachie
The teams were split into 2 groups of 4 teams, in a slightly unusual format, matches were played to 2 sets with every set won counting as a point. The players from teams all played each other in a round robin format.
Both groups were closely matched. In group 1 Arbroath High School, narrowly took first position over Morgan Academy with Logan picking up all 4 of his sets in the head to head. It should be noted that both Lewis, from Arbroath and Ross, from Perth, had "exciting travels" with cancelled trains and quick runs to catch buses. All the teams won a number of points with Grange Primary school a close 3rd.
In group 2 the first 2 matches were incredibly close with Harris Academy and Monifieth drawing 4-4 and DundeeHigh School 1 taking a narrow 5-3 win over Tayview PS. With the brothers Al-Rubayee not dropping another set in the group they came out on top of the close group with Monifieth taking second and Dundee High School taking a close 3rd.
The play offs and final were all played as conventional 3 set matches. In case of a draw a single set of doubles would determine the winners
In the 7th / 8th play off Tayview Primary school proved to be too strong for Dundee High Schools second team with Thomas not dropping a set.
In the 5th / 6th Play off Grange Primary School took 5th place needing the tie break doubles. James Hay, younger brother of the 1st division's David dropped only 2 sets all day.
The 3rd / 4th Place tie also went to the deciding doubles game with Morgan Academy edging the deciding set.
The outright winners were Arbroath, also needing the doubles tie break to defeat Harris Academy. Logan's all round play and Lewis's defensive ability joined together to make worthy winners. Haydar and Mohammad got very close. Despite his success Mohammad indicated at the end he will not be continuing in this manner when he noted "I will NEVER play left handed again!"
The standard of the play was excellent and the sportsmanship was outstanding, perhaps some of us league players could learn from the example set by the youngsters. Well done to all participants. We hope that you all enjoyed the event as much as we did organising it.
The organisers would like to thank the youngsters from our league who despite not being eligible to play came along to support, umpire and encourage the players. Namely Eddie Dougan, Tanya Kapelyukh, Stewart Clark, David Hay, Andrew Nimmo. Also thanks to Pat Duffy for doing the presentations.
We would also like to thank the Ward Road Gym Directors for allowing us to take part in their annual Directors day event and providing much appreciated Pizzas at the end.
In the pictures from left to right: Arbroath High School, Harris Academy and Morgan Academy aided by Craigie Primary School
Plebeians Club Championships
The Plebeians Club Championships were held at Forthill on Sunday 10th March 2019.
In the Club Championship itself, players were divided into three groups with top seeds Zeesth Naseem, Jason Fleming and the Holder Grant Williams coming out on top. While Zeesth and Jason went straight through to the semi finals Grant had to negotiate a particularly tough Quarter Final against the doughty Pete Yearworth. That task suddenly became more difficult when Pete won the first set. A very tight second set saw Grant win 12 – 10 and from there onwards he had the edge and won in four sets. Villa teammates Ian Hunter and Ian McLagan fought out the other Quarter Final.  After sharing two fairly one sided sets Ian Hunter eventually prevailed although he was taken all the way to juice in the fourth set.
In the first semi final Ian Hunter looked to have a tough task against the Zeesth meister and so it proved with Ian getting somewhat blown away in three straight sets. The other semi looked tighter although hats off to Grant who won in three well contested sets against Jason with the closest and probably the crux being the second which was won 16-14. In the final Grant did all he could against Zeesth with some terrific phases of play particularly in the first two sets. Having won the second set 14 – 12 and with the match level, a combination of Zeesth going into overdrive and perhaps Grant's exertions catching up with him saw the match reaching its conclusion fairly quickly. Congratulations to both players – Zeesth on winning his first title and Grant for such a spirited defence. 
The Handicap Event was straight knockout with sixteen participants and one of the closest matches in the first round saw young Nairn Nixon defeating Pete Yearworth 31 – 30 in the third and deciding set. In the Quarters Nairn edged out Moira Brown 21 – 20 again in the third and deciding set. In one of the other Quarters Grant faced up to Zeesth again but this time with a small start. This proved not to be enough and Zeesth edged out Grant with two 21 – 20 wins in the second and third sets.
The Semis saw Euan Steel taking on old stager Ian Hunter who had to use all his guile and old fashioned chiselling technique to finally wear down Euan in three sets after being well beaten in the first thus preventing an all Junior final (Spoilsport !). In the other semi the Nairn Nixon bandwagon continued against Club Champion Zeesth. Having won the first set fairly comfortably Nairn then lost several chances to win the second before Zeesth edged it 31 – 30. Undeterred Nairn came out fighting in the third set and knocked Zeesth out of his stride and this time he made no mistake when the win was in sight. In the Final Ian never really managed to lay a finger on Nairn and a famous and well deserved victory was assured.
To complete the afternoon / evening there was a Ballot Doubles competition with some promising partnerships coming out of the draw. None more so than the two finalists Euan with Zeesth and Pete Yearworth with Nairn. Euan and Zeesth won the first set 11 – 6 then a second set with fluctuating fortunes and some brilliant play went to Pete and Nairn 17 – 15. The third set was tight too but eventually Zeesth and Euan prevailed in what couldn't have been a tighter tussle.
Club Championship          Winner – Zeesth Naseem                 Runner Up – Grant Williams
Handicap Singles              Winner – Nairn Nixon            Runner Up – Ian Hunter
Drawn Doubles             Winners – Euan Steel / Zeesth Naseem   Runners Up – Pete Yearworth / Nairn Nixon
Some of the Trophy winners from the Plebeians Club Championships
Dundee Closed Junior Championships, Sunday 17th February - Results
A number of Dundee's young table tennis players produced fine performances at Ward Road Gym on Sunday.
Sofia Kapelyukh dominated the girls' events, while Ross Marshall defeated Lachlann Henderson to win the Minor Boys' title.
In the Cadet Boys' Singles semi finals, Jacob Munro and Euan Steel won through defeating Robb Lawrence and Mohammed Alrubayee respectively. In the final, Jacob proved to have too much firepower for the Arbroath player.
The Junior semi finals pitted David Hay against Euan, and Jacob against Andrew Nimmo with David and Andrew emerging to play an entertaining final won by David.
The Under 21 event was played as a round robin and arguably produced the best play of the afternoon. David beat Jacob, who then recovered from his earlier defeat to turn the tables on Andrew. This meant that Andrew had to defeat David to have any chance of the trophy and he certainly gave it his all - a tremendous five set match ensued but David held his nerve and his fast attacking game proved just too strong against Andrew's high defensive strategy. The title went to David for the first time, with Jacob taking runners-up spot.
Minors Group 2019
Boys winners 2019
Dundee Closed Championships, Saturday 16th February - Results
Played at Ward Road Gym on Saturday, the senior categories produced a day of fine play and enough surprise results to keep the spectators buzzing.
Gillian Edwards retained the three titles she won last season, beating Fiona Kinloch in the final of the Ladies' Singles and then teaming up with Fiona against Emma Bissett and Tanya Kapelyukh to add the Doubles trophy to her haul. In the Mixed Doubles, Gillian and Ryan Docherty survived a close semi and in the final were match points down to Callum Riddoch and Emma in the fourth set before coming through to win in five.
In the Men's singles, Robert Toth progressed steadily in his quest for "three in a row." In the semi he inflicted a 3-1 defeat on Pete Yearworth who had rolled back the years in making it through to this stage. In the bottom half of the draw, Ryan was the man in form, beating three higher seeds in Stuart Halliday, David Hay and Callum in quick succession. However, he couldn't find a way past Robert's determined mix of attack and steady play and it was the Mylnefield player who was crowned champion yet again.
The Men's Doubles turned out to be the top event of the afternoon with Robert and Stuart favourites to win the title for the third time but they suffered a shock first round exit at the hands of juniors Andrew Nimmo and David Hay. Andrew and David then won a thrilling semifinal against Ryan and Paul Monteith, coming back from 2-1 down to win the 4th and 5th 13-11 and 11-9. On to the final to face the tricky pairing of Peter Aird and Callum, the boys again staged a recovery from two sets down to win the next three -8,-9 and -8 to get their names on a senior trophy for the first time.
There were no such surprises in the Veterans' Singles with Peter Aird fulfilling his top seeding with a final win against Iain Martin, although Peter did survive a scare in the semi against Brechin's Andy Crawford. The Vets' Doubles title went to Iain and Pete Yearworth when they defeated John Anderson and Andy. The Silver Bat was won by Grant Williams and Andy and Pete paired up to take the last title of the day when they beat Mohammed Alrubayee and Iain in the final of the Ballot Doubles.
The major trophy winners
Scottish National League, final weekend, 9-10 February 2019
All three Dundee teams enjoyed an unbeaten day at the final series of National League matches played at Bell's Sports Centre at the weekend, but pride of place goes to Dundee A, who finished their campaign as winners of Division Two.
As anticipated, in the first match of the day Dundee B were in no mood to do any favours to the "A" squad and a 3-3 draw was the final result after a feisty battle, with B squad's Callum Riddoch, Stuart Halliday and Jason Fleming fighting all the way against the higher placed Gillian Edwards, Mark Lundberg and Robert Toth.
There was damage limitation however when the A team's closest rivals, Aberdeen, were beaten in their first match. In their second match Gillian, Robert and Jason hit their stride to defeat Aberdeen 5-1 to win the title and promotion.
Dundee B finished in a sound fourth place with a 3-3 draw against South Ayrshire.
In Division 5, Dundee C won both their matches against Edinburgh International B and Joe Wilson TTC by 5-1, which gave them a third place finish overall - a promising showing from juniors David Hay, Andrew Nimmo and Jacob Munro.
Overall a good day for Dundee table tennis, with special mention to Robert, Stuart, David and Andrew who won all their matches on the day.
The majority of the players will now go on to compete in the Dundee and District Championships at Ward Road Gym this coming weekend.
Photo shows (from left) Gillian, Robert, Mark and team Captain Grant Williams receiving the Division Two trophy from TTS President Stewart McGowan
Division 2/3 Closed, 26th January 2019 - Report
A cheery turnout of 20 players contested the five events at WRG on Saturday.
Teenager Jacob Munro was rewarded for countless hours' of dedicated practice when he won all four titles available to him.  At the other end of the age range, hats off to TT senior citizen Ian McLagan who was on the table non-stop for the best part of seven hours, his efforts winning him the Over25s title and runner up slot in the Division Two Trident Challenge.
Third player to catch the eye on the day was youngster Mohammed Alrubayee from DDTTA's Development Squad who took home three runner's up trophies.
Emma Bissett was in good form to take the Division Three Challenge title.
D2 Trident Challenge Singles :
winner    Jacob Munro (Mylnefield)   R-up  Ian McLagan (Plebians)
D3 Challenge Singles               :
winner    Emma Bissett (Telecom)      R-up Mohammed Alrubayee (Mylnefield)
Hardy Ballot Doubles              :
winners   Jacob Munro & Eric Brown(Plebians)                
R-up          Mohammed Alrubayee & Elaine Forbes (St Andrews)
Over 25 singles                        :
winner     Ian McLagan                        R-up Howard Lee (St Andrews)
Under 25 Singles                     :
winner Jacob Munro                           R-up Mohammed Alrubayee
Fowler Handicap Cup (open to all divisions):
winner  Jacob Munro                           R-up Andrew Nimmo (Mylnefield)
Bring along a Kid
Take four TT-playing adults bringing along seven youngsters, add in help from Carol and Bill and a mix of fun games and skills from Arthur's repertoire and you have the recipe for a successful morning of table tennis at Ward Road Gym at Friday's "Bring along a Kid" session
Scottish Call up for John Hannah
Dundee University student John Hannah has been rewarded for many sound tournament performances with selection to represent Scotland U21s in an international match against Ulster U'21s in Haddington on Friday evening (4th January). While pressure of studies have not allowed John to register for league play this season, we in Dundee are lucky that he still makes time to help with our coaching and development programme and we congratulate him on this representative honour.
John and his Scottish teammates will also be taking part in the Jarvis Edinburgh Open which will be played at Bathgate over the weekend of 5th & 6th. Good luck not only to John in this event, but also to the seven Dundee players who have entered a number of categories.
"BRING ALONG A KID" Morning
On Friday 4th January, from 9.30am to 12.30pm at Ward Road Gym, DDTTA is offering a drop-in session where league players are invited to bring along a novice youngster(s) to give table tennis a try. Rope in a child/grandchild/neighbour's kid -whoever- and encourage them along for a morning of fun games just when life is getting unbearably boring at the end of the holidays.
Supported by our development grant from TTS, there is no charge for an adult and child pairing.  Contact chairman@ddtta.co.uk for more details.
Scottish Ping Pong (Sandpaper) Championships - reminder
Dundee will be hosting the Scottish Ping Pong Championships at Ward Road Gym on Saturday 22nd December.  Sandpaper is a fun variation on Table Tennis, and this event is open to all standards of player.
Entries close on Friday 14th December for the competition in Dundee on Saturday 22nd December.  Entry forms are available at Ward Road Gym, at Forthill Sports Club, or from Juliet or Derek Johnston (pingpong@johnstonfamily.me.uk).
Scottish National League
Following the second series of matches played at Bathgate on Saturday, Dundee A find themselves leading Division Two, albeit on games difference from Aberdeen A.
Two wins from Mark Lundberg and one from Robert Toth gave the Dundee side a 3-3 draw against Edinburgh's North Merchiston in the morning session. Robert, Mark and Gillian Edwards then hit top form in the afternoon with a 6-0 defeat of Stirling.
Also in Division Two, stablemates Dundee B started the day well with a 5-1 win against Murrayfield C, with Jason Fleming and Callum Riddoch each putting two points on the board and Michael Hahn adding another. Unfortunately the trio could not hold this form against Aberdeen A, with Callum and Michael managing a win apiece as they went down 2-4. The day's results left them in fourth place - only two points behind Dundee A.
With the two Dundee sides set for a derby in the first match of the final series to be played at Bell's Sports Centre on 9th February, it would be a brave pundit who would predict the outcome.
Scottish Primary Schools
Lachlann represented Seaview PS at the 2019 Scottish Primary Schools in Bathgate on Saturday 24th December.  Lachlann played well and calmly, winning his first two singles matches in straight sets.  The experience of the top seed in his group, however, proved too much for Lachlann and he came 2nd in his group. 
In the Consolation Singles, Lachlann lost his first match in a very close 5-set match with several tie-breaks, and then won his final match comfortably.  He went on to play in the Doubles, with Robbie from Aberdeen.  They won their first match comfortably, but unfortunately then came up against the second seeds, and were put out.
Lachlann kept a cool head all through the day, and was very focused – both when playing and when umpiring.  He did credit to himself, to Seaview PS, and to Dundee & District.
Dundee Sandpaper Table Tennis Tournament.
Dundee's Sandpaper event was a success with 20 players taking part in a relaxed atmosphere. The scoring is a little different from the normal game - each game is to 15 points and there is no tie-breaker so that you can win (or lose) 15-14. We played the best of 3. It is disconcerting when you reach 11 points and find that you are still 4 points away from taking the game!
It was quickly clear that some players were used to the bats and some had taken the opportunity to practice with the bats that are available in Ward Road Gym, however it didn't take long for the others to get used to the format. It was interesting to watch the players adapt - some quickly, and some less so.  One player commented "Nobody told me it was hard work". Another felt it was "good for my game, it is making me think about what I'm doing. Can we do it again?"
The format was 5 groups of 4, with the top 2 going through to the knockout rounds. Matches were the best of 3 games, each game up to 15 with no tie break, each player also had the chance to serve a double point ball once per match. Some of the players had the advantage of having practiced a bit before using the bats and others, like Howard Lee, were old hands.
In the group stages:
Group 1 saw Andrew Nimmo's and Mohammad Al-Rubayee's pre-match practice put them in good stead with Andrew winning the group, though he was pushed hard in his match with Gillian Edwards. Despite losing to Mohammad, Gillian defeated Michael Martin.  Michael had missed out on the warm up due to his journey from Glasgow, but then steadily improved during the evening.  He won his last match against Mohammad, which meant that there was a 3 way countback with Gillian taking 2nd in the group.
In Group 2 Jason Fleming was untroubled winning the group without dropping a set. Bill Beattie was runner up, winning close matches with Steve Wilson and Fiona Kinloch.
Group 3 was won by Iain Martin.  Howard Lee's previous hardbat experience and determination earned him second place despite being pushed hard by Chris Riddoch. Mark Lundberg started strongly but looked uncomfortable with the sandpaper bat.
Group 4. In a close group. Paul Monteith won all his games but was pushed hard in his match with David Hay. Jacob Munro fought his way into second place with Haydar Al-Rubayee making a good showing in such a tough group.
Group 5 was a late addition and thanks go to John Thain who played to make up the numbers. Robert was untroubled in the group with Stewart McGowan taking a comfortable second place. Derek Johnston showed his previous sandpaper bat experience by finishing the group in a solid last place.
In the knockout stages the surviving players were now getting used to the bats. The match of the night was the quarter final with Iain Martin against Jacob Munro. Despite a fantastic performance by Jacob, Iain managed to save several match points to win 13-15, 15-14, 15-14. During the match the ball was being hit so hard that 2 of them burst.  Elsewhere it may have been my imagination but Paul seemed to particularly enjoy beating his teammate Gillian on his way to the final. Robert adapted quickly to the hardbat and despite a close match against Bill managed to win the event without dropping a set.
Congratulations to Robert Toth, Paul Monteith (pictured above), Iain Martin and Jason Fleming who all have guaranteed themselves places in the Scottish Ping Pong Championships. Thanks go to Juliet Johnston who was the main organiser and to Ian McLagan who kindly came along to help with the running on the night.
Finally we can now officially confirm that, with thanks to this event and the others run throughout Scotland, the Scottish Ping Pong Championships now have 2 qualifying spots in the World Championships of Ping Pong which will be held in London.
Some other local players have already grabbed spots in the Scottish Championship by getting their entries in quickly, don't miss your chance and get your entry in soon.
"Exclusively Girls" session, Ward Road Gym, Saturday 3rd November 9.45am
The "Exclusively Girls" morning had an encouraging turnout of fifteen ladies. A warm up hit was followed by "top table and split" doubles. After the tea break, we played team matches incorporating doubles and singles. Thanks to Gillian, Emma, Carol, Fiona, Jill and Miriam for their support in the venture. It was nice to welcome five of our Wednesday morning regulars. The Coupar Angus crowd brought two newcomers who were joined by a St Andrews "Rascal" who was making her first visit to WRG.
Numbers were completed by Lenna Cumberbach who has recently moved to the area and is intending to get back up to speed and play competitive TT after a few years' absence. The overall feeling was that it had been a worthwhile and enjoyable exercise which would be good to repeat. Thanks to all who attended and to our Chair, Elaine Forbes for organizing the event.
"Novice" Visitors Coaching and fun session, Ward Road Gym, Saturday 3rd November pm.
Eight of our "novice" youngsters were joined by eight players from East Lothian and Stirlingshire with the aim of enjoying joint practice and some light hearted competitive play as a route to easing them in to tournament play. Our coach, John Hannah, delivered an excellent two hour coaching session, keeping the players focussed and involved throughout - no mean feat given the wide range of abilities.
The coaching was followed by a two-player team tournament, with each player partnered with one from a different district and combining singles and doubles. This proved a huge success, with the youngsters mixing well. The players were a credit throughout, not only in terms of application but also good sportsmanship. Hopefully the venture will have whetted their appetite to work hard with our coaches and to have confidence to enter tournaments out with the district. The visiting coaches were also delighted with the afternoon's format and we all look forward to the next session on 29th December.
"Exclusively Girls" session, Ward Road Gym, Saturday 3rd November 9.45am
As part of a nationwide drive by TableTennisScotland to encourage more female participation in table tennis, we will be holding an "Exclusively Girls" morning at WRG on Saturday 3rd November from 9.30 am to 12 noon.
It would be great if all the ladies playing in the area – including league teams, players at our various social sessions, and girls at the Schools sessions - could lend their support to this event.  Please come along to play on the day and also bring along any friend or relative who has at any time said she would like to give TT a try.
Entry is free.
For more details, contact chairman@ddtta.co.uk.
Boys' Brigade Annual TT Competition – no practice at Ward Road Gym on Monday 12th November
Please note that there will be no practice at WRG on 12th November, as the hall is being used for the annual Boys' Brigade competition.
Dundee Secondary Schools Qualifier, Thursday 6th December, 6pm, WRG
The Dundee Secondary Schools competition will be held on Thursday 6th December at Ward Road Gym.  Despite the name, this competition is open to anyone born on or after 1st September 2000, whether at Primary, Secondary or even at College or University in the North Fife/Dundee/Angus area.  You don't need to play TT regularly to take part.
There are boys' and girls' events for 3 age groups: under 14, under 16 and under 18.  You may only play in your own age group.  The top 4 in each event qualify for the Scottish Secondary Schools Finals in Bathgate in February 2019.
This is usually a very popular event.  Family and friends are welcome to watch and support.  Tea and coffee facilities are available.
Entry forms will be available at Ward Road Gym and from local coaches.
Dundee Players at Scottish Vets Assessment
In the recent SVTTA Assessment, several Dundee league players took part. Here is a synopsis of how they fared.
In the 40+ age category, Fiona Kinloch and Aaron Robertson took part, Aaron making his debut in these events. Both found the first stage very tough; neither won a game although both suffered a narrow defeat. In the second stage, Fiona won all her matches, including a 3-1 win over Aaron and she finished 16th overall with Aaron finishing in 20th.
Paul Monteith, seeded fourth in the 50+ event, dropping a couple of games in the first stage. John Anderson, like his club mate Aaron making his debut almost snatches a win in the first stage but lost 11-7 in the fifth. Howard Lee also lost out in the first stage and he joined John in the competition for places 12-16, John won all his 5 games to finish 11th, a creditable finish in his first assessment and Howard's 2 wins gave him 17th place overall. Paul hade a great chance for a top three finish, but old rival David Simpson saved four match points and Paul ended where he started; in 4th place overall. Next time, Paul!!!!
Peter Aird, seeded 2, and Carol McLean entered the 60+ event and were drawn in the same group. Carol gave Peter a fright, Peter scraping home 11-8 in the fifth, and also came close to winning another tight game eventually losing 11-9 in the fifth. Peter just edged out the other players in this group to take top place.  In the second stage, Peter had a bad day and won only the one match and finished in fifth place.  Carol just could not find her earlier form, winning only the one game to complete her day in 19th place.
The 70+ event saw Winnie Stein and Ian McLagan in the group.  Try as she could, Winnie just could not manage to scrape a win, while second seeded Ian reached the last match unbeaten after winning against the third seed after being 10-9 down in the fifth, but he lost out to the top seed 3-1 to finish in second place, Winnie ending up in sixth.
In the 75+ event, Ji, Fleming also just could not win a match despite several close score lines and ended up in fifth.
Report by Ian McLagan.
Fun night at Ward Road Gym
Friday night at WRG was the place to be to view a good-natured competition involving fifteen of our league players. Based on the excellent format of the Chris Halliday Cup, the rules were adapted slightly to cater for players from across all three divisions competing against each other in teams of three, playing sets to 51 points.
The photo shows the winners,Emma Bissett, Stuart Halliday and Fiona Kinloch, surrounded by a number of the participants.
Dundee & District takes part on Clubs Open Doors Week
Clubs Open Doors Week is a chance for people across Scotland to try a new sport or activity for free in their local area from 23 - 30 September 2018.
Club: Dundee & District Table Tennis Association
Date: Friday 28 September 2018
Time: 7.00pm - 9.00pm
Venue: Ward Road Gym
So if you have a friend, relative, workmate etc. who fancies giving TT a try, bring them along on the 28th.
Scottish Ping Pong Championships: The Ronnie Turnbull Quaich will be held at Ward Road Gym on the 22 December 2018
Juliet Johnston has "volunteered" to organise the Scottish Sandpaper Championships incorporating the World Championship of Ping Pong (WCPP) Qualifier. This event has up to now been held annually hosted and organised by Murrayfield Table Tennis Club.
The WCPP is held at Alexandra Palace in London on an annual basis, organised by Matchroom and televised by Sky. Scotland have been well represented at the championships with last year two players with strong local ties, Gavin Rumgay and Ian Johnston, both made the last 32. If you'd like a blow by blow account of Ian's success just raise the subject with his dad Derek.... though be aware he likes to talk about it and has quite a lot of video footage.
While the Scottish Championships have a strong competitive element the Quaich has always managed to combine the Serious side with a fun multi-level event, don't be put off by the thought of playing Gavin (or Ian!) Watch out for information on the main tournament and local events leading up to it. The competition website can be found here.
Sandpaper bats at Ward Road Gym
Copied from https://pingpongscotland.wixsite.com/home/news
From Rising Stars to Top players from young to young at heart not forgetting DDTTA's head coach,
With thanks to experienced Sandpaper player John Hannah for providing a couple of sandpaper bats and to Mylnefield Table Tennis club for allowing her to gatecrash their match night, Juliet was able to start attracting players for the forthcoming tournaments.
With teams from all 3 divisions representing clubs from throughout Fife and the Dundee areas, it was an ideal opportunity to advertise the Sandpaper game in preparation for a Dundee and District Table Tennis Association area tournament (date to be agreed once we have bats!!) and the Scottish Tournament on the 22nd December.
Several of the top local players were in attendance, including the Scottish Women's number one Gillian Edwards who, we are delighted to say, indicated her intention to enter. The more observant of you will notice that Gillian is holding a standard Table Tennis bat - when the sandpaper bats arrived, Gillian was playing and we were too scared to interrupt (only kidding!)
David Goddard shows how it's done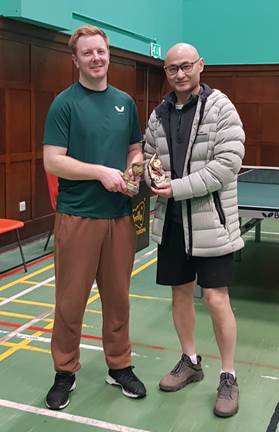 When we asked if Rising Star Jacob Munro would enter, his Dad suggested that we'd have trouble stopping him :)
Mylnefield Club Championships 2018
Callum Riddoch is the 2018 Mylnefield Table Tennis Club Champion. He won the competition, held at Ward Road Gym on Tuesday 28 August, for the second year running. In the 'Finals' group he showed excellent form, beating David Hay 3-0, Peter Aird 3-0 and Stuart Halliday 3-1. The critical match was the last match of the evening when Callum faced Stuart, both players having been unbeaten up to that stage. Callum squeezed home 11-6, 9-11, 11-9 and 11-7, the winning of the 3rd set proving to be pivotal. Andrew Nimmo took the consolation event by beating Fiona Kinloch 12-10 in the fifth end. The competition was keenly contested by 14 members and played in an excellent spirit.  Thanks go to Ian McLagan for the smooth running of the tournament on the night.
           Callum receiving the trophy from Steve Wilson
Report by Steve Wilson
DDTTA Summer League
Dundee & District's Table Tennis Summer Programme, supported by a grant from SportDundee, drew to a close with its Finals Night at Ward Road Gym on Friday 31st August.
At the start of the evening, trophies were presented by TTS President Stewart McGowan to winners in three categories following three months of play involving 27 players in 63 matches in a new format Summer League:
Singles : Robert Toth
Doubles : Emma Bissett and Callum Riddoch
Highest finish by Novice Junior : Jamie Harle and Euan Steel (pictured)
Play then commenced to decide the last award of the competition - winning team.
In the first semi final, Callum and Emma enjoyed a 3-0 victory over David Hay and Bill Beattie. A tighter tussle ensued in the second semi, with Ian Farquhar and Andy Reid being narrowly pipped 3-2 by Tanya Kapelyukh and Robert.
With honours even after the first two singles of the Final, the doubles tie took on crucial importance. In a high quality and very close match, Robert and Tanya edged a fifth set win to take a 2-1 advantage into the second round of singles. With this cushion, both were able to add to their score and to claim the team title with a 4-1 victory.
Jamie and Euan, Novice Junior runner up and winner respectively
Tanya &Robert (Team winners) and Calum & Emma (League Doubles winners)
Honour for Three DDTTA Stalwarts
TTS President Stewart McGowan visited WRG on Friday evening to present Honorary Lifetime Memberships to Winnie Stein, Stewart Clark and David Sim.
This much deserved honour from TTS recognises not only the long playing careers of the threesome, but also the massive hours of voluntary effort they have put in over the years for their clubs and for DDTTA to the benefit of the whole membership.
DDTTA Players Out and About
A number of our players have continued their season beyond the end of league play by competing in two tournaments.
Paul Monteith, Callum Riddoch, Ryan Docherty and David Hay all contested the Men's Singles at the rearranged Scottish Closed Championships in Perth on 30th April, but none emerged from their qualifying groups into the main draw.
David was joined on the Sunday by Andrew Nimmo and Jacob Munro with all three qualifying for the last sixteen of the Cadet Singles. David made it through to the quarters, losing to eventual runner up Yifei Fang. Both Jacob and David played well to also reach the last sixteen in the Junior age category.
Five players took advantage of Aberdeen TTA's decision to allow external players to compete in the North Confined on 5th May. Aaron Robertson and John Anderson made the relatively short journey up the road from Brechin, the latter having a particularly successful run in the Vets' Singles. Qualifying for the knock out stage following two wins in his group, John had the satisfaction in the quarters of turning the tables on Ikenna Aosgwa who had beaten him in the AU Cup competition earlier in the day. A close 3-2 win in the semi against Dennis Oon pitched John against Ross Martin in the final with the latter winning in three close sets.
Jacob and Andrew were joined in the junior events by Mohammed Al-Rubayee. Making his debut outside Dundee, Mohammed showed a tremendously positive attitude against more experienced opponents.
Andrew reached the final of both the Under 18 and Under 15 singles, meeting Josef Bokedal in both and unfortunately losing twice -but he gave a great account of himself in the U15 final where he actually held three match points for a 3-0 victory before suffering the anguish of a tremendous Bokedal fightback.
Chris Halliday Cup
The last competition of the season was completed at WRG on Tuesday evening when an excellent entry of six teams competed for the Chris Halliday Cup. It was good to see youngsters from the Development Squad help out Squires and Missiles and enter their own team (the "Pretenders") in place of Prospects.
With Stuart H masterminding the draw and dad Brian helping out shorthanded Lairds, a busy and competitive night ensued. When the last match finished at 10.30, there was a three way tie with Lairds, Buccaneers and Telsports all having won four of their five encounters. Fortunately still sharp enough for some late night arithmetic, Stuart announced that on points won, Buccs were in runners- up spot with Telsports' name going on the trophy for 2018.
 The Winners – Telsports                                                                                                 The Runners up - Buccs